MESSAGE FROM COACH CLEMENTS: Friendly reminder to all elementary wrestling parents that tonight, March 21st, will be our elementary wrestling meet. It'll start at 4 in the elementary gym.

Winter Sports Awards Night will be Tuesday, March 14 @ 6:00pm in the Auditorium.

Today is a virtual/online learning day, Friday, March 10, 2023

POOL CLOSED Due to the early release, the pool will be closed today, March 9, 2023. #kaspanthers

School will release at 1 pm today, March 9, 2023

ACT Test Day - A reminder that all Juniors will be taking the ACT test tomorrow. Please encourage them to get a good night's sleep and do their best!

School will start 2 hours late, Monday, March 6, 2023

Due to mechanical issues, the pool will be closed for open swim Friday, Saturday, and Sunday. Hopefully, the problem will get fixed Monday morning so we can re-open. We are sorry for the inconvenience. Have a good weekend!


Good morning Panther fans and welcome to GAME DAY!
https://youtube.com/shorts/FxD6yN7ijBc?feature=share
Still plenty of tickets available for purchase at the door tonight. Doors open at 6:00pm and game time is 7:00pm. Hope to see you all there! (video credit Jayla Nagel)

Reminder! Senior Local Scholarships are due to Mrs. Egge by 3:15 on Friday, March 3rd. Local Scholarships are specifically for our Kickapoo students so please apply! #kaspanthers


WIAA reminders for Sectionals (GO PANTHERS!): Please inform your fans of these WIAA rules/regulations. Laser Pointers are prohibited at all WIAA tournaments. Any individual using a Laser Pointer will be immediately ejected from the gymnasium and will not be allowed to re-enter during the basketball game in progress. All types of noisemakers (stadium horns, cow bells, etc.) as well as projectiles are prohibited. Thunder sticks will not be allowed. Antics involving throwing paper airplanes, coins, toilet paper, miniature balls, etc., will subject a violator to ejection. Temporary hand held banners are allowed with these restrictions: They may not have: Offensive language. Used to disrupt players, officials, or interfere with spectators. Be carried around the gymnasium before/during or after the match. Paper confetti - is prohibited. Shakers and pennants even if attached to wooden/plastic sticks for spectators, cheerleaders, pom pom squads, etc., are allowed. Homer hankies", towels, and "hands" with No. 1 fingers will be allowed provided that printing (if any) includes only school name, team nickname, or mascot and they do not cause crowd problems. Stereo tape decks and related radio equipment are prohibited Bands may use amplifying devices with permission from meet managers. Other items such as balloons, bubble machines, etc., which can create crowd control concerns or clean up problems are prohibited. Body paint is prohibited.

The Last Blast Concert has been rescheduled to Tuesday, March 7th, and 7:00pm, in the school auditorium. Come have a blast as we celebrate our athletes, senior band members, and wrap up our pep-band season. Go Panthers!!

Girls Basketball Regional Champs Clothing Orders are due to Coach Wiegel by 8 a.m. on Tuesday, February 28th, so that the shirts can be here by Wednesday. #kaspanthers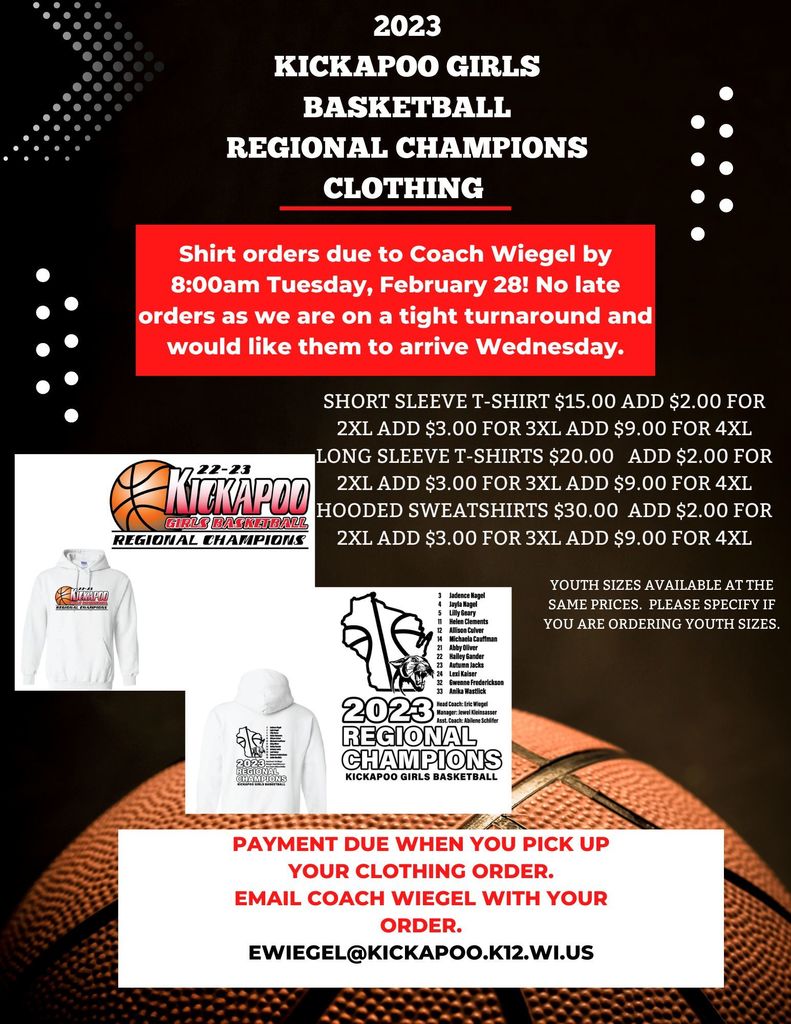 Tickets for Thursday's Sectional Semi-Final will be on sale tomorrow (Tuesday) from 1:00pm to 3:00pm and Wednesday from 8:00am to 10:00am in the Pool Lobby. Please enter through the Community Pool Entrance. Cost is $7 and children six and under are $1. Exact change is appreciated. Thanks and go Panthers!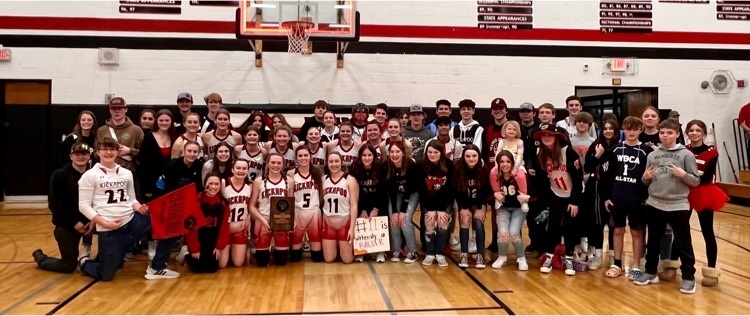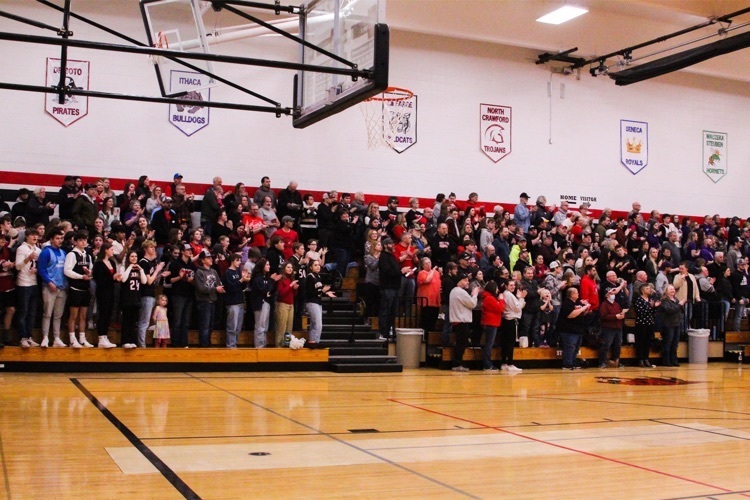 School is closed for February 27, 2023.

School will start 2 hours late, Monday, February 27, 2023

Congratulations to the Kickapoo Lady Panthers on their WIAA Regional Championship last night. Ticket information for Thursday's Sectional Semi-Final will be posted on Monday.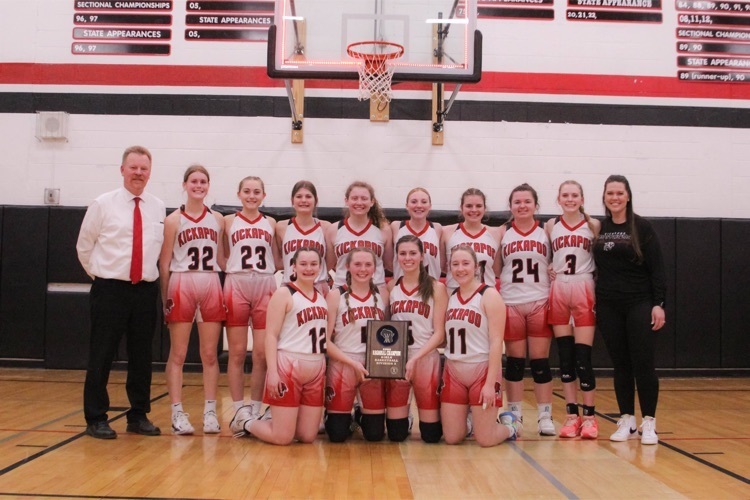 The HS band members should meet in the auditorium at 6:15pm, this evening, Saturday, Feb 25, to prepare for the Regional Final Basketball Game. An email with more details has been sent. Go Panthers!!! Doors open at 5:30 pm!

Girls Basketball Regional Final - Saturday Feb 25 @ 7:00pm - Ithaca @ Kickapoo No pre-sale. Doors will open at 5:30pm.