P/T Conferences: Just a reminder that Parent/Teacher Conferences will be held tonight and Thursday night from 3:30-7:30 p.m.

The football awards banquet will be on Tuesday, November 7th at 7:30 pm at Kickapoo. Hope to see you there. Seniors bring drinks, juniors desserts, sophomores salads or chips, and freshmen bring drinks.

VETERANS DAY PROGRAM: The annual Veterans Day Program will be held on Thursday, November 9th at 10:50 a.m. in the HS Gym.

Seniors, the Rural Route popcorn will be in on Monday, Nov. 6. Plan to attend a class meeting on Monday during resource to pick up your order for delivery. If you need to pick up earlier than resource, please see Mrs. Martin on Monday during snack break.

Congratulations to Sylvia Peterson, Jessica Coulthard and Becca Baker for being awarded All Conference in volleyball. Vessa Pralle for being awarded Honorable Mention and Olivia Swanson for receiving the All Conference Sportsmanship Award.

Opening night of the musical is tonight! Tickets are still available for sale in the MS/HS office.

End of the Quarter: Just a reminder that the end of first quarter will be this Friday, November 3rd.

There will be a financial aid & FAFSA workshop at UW-Richland Center on Thurs., Nov. 2nd from 5:30-7:00PM. See Mr. Donovan if you have questions.

The financial aid meeting will be Nov. 8th from 5-7 at Western Technical College in Viroqua. Please see Mr. Donovan for a handout.

Retake picture day is tomorrow. If you did not have your pictures taken, please stop in the office for a picture form. Those students who had their picture taken and want retakes, should bring their original picture packet with them on retake day.

The Haunted Hedge Maze opens tonight at 7 p.m. and will be open tonight and tomorrow night from 7-10 p.m. Come on out for hauntingly good time!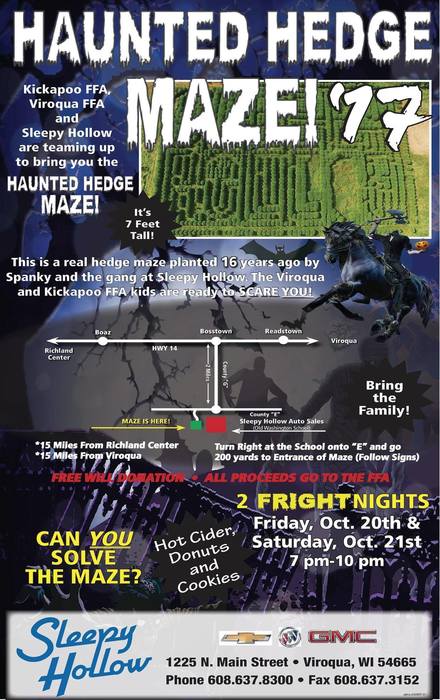 Music Department pizza sales money is due to Mr. Smith or Mrs. Miller by tomorrow, Friday, October 20th.

Anyone interested in Wrestling this winter needs to sign up in the HS office with Marla by Friday. This is for both middle and high school students.

There will be a HS Boys Basketball meeting in Mr. Petersen's room from 3:00pm to 4:00pm on Monday, October 23rd.

High School Football Equipment hand-in will be tonight at 4 pm. Please bring ALL of your WASHED equipment in as well as the money you still owe for parents night flowers.

REMINDER: There will be a 1:00 p.m. early release today, October 18,2017.

Kickapoo Panthers Volleyball team defeats North Crawford 3-0 in WIAA Regional Round 1. They advance to play @ River Ridge on Thursday, Oct 19 @ 7:00pm.

VB Regionals: Come on out tonight and support our volleyball team as they are in Regional action against North Crawford! Game time at 7 p.m.

Thanks to everyone who bought pizzas and came out Saturday to make pizzas for our big music fundraiser. We sold 2050 pizzas and they were assembled in 4 hours! Money is due this Friday, Oct. 20th.

JUDGES NEEDED: The Kickapoo Gifted & Talented Program is in need of judges for upcoming events. If interested, please contact Sarah Wallace at 627-0129 or
swallace@kickapoo.k12.wi.us
.